Paddleboard
Try this newcomer on Czech rivers – we the only ones on Jizera who rent those "surfs with paddles", as the non- professionals often call the paddleboards. Paddleboard RED 10'6" is the internationally best-selling model of the inflatable SUP. It is a 3.15 m long and 82 cm wide inflatable paddleboard (iSUP), ideal for small rapids or keep-fit paddling on lakes, ponds and rivers. In the Czech Republic, it is commonly used for sailing the upper parts of the rivers. It is also very popular among the boat rentals thanks to its resistance and stability. It can carry two people and it's as fast as the common laminate floats. No matter if you are a beginner or an advanced athlete, the paddleboard is ideal for you. The great advantage is that after the sail it is possible to wrap the paddle board up to a neat package.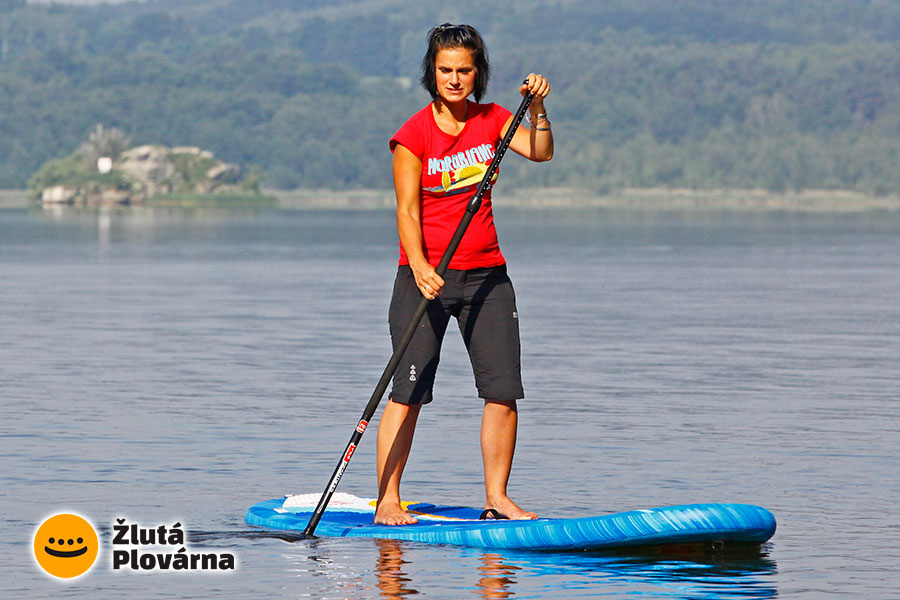 Paddleboard offers a hitch at the bow of the float. There is a stainless steel eyelet for binding for both in front and in back. The thickness of the board is 12 cm, which secures high bearing capacity. The stern is widened for better stability. The deck has a crocodile skin pattern, which is comfortable and doesn't leave prints on your body in case you decide to use your paddleboard for sunbathing. Of course you will get a bag for easier transport and a pump, thanks to which you will have more time for sailing.

RED Paddleboards have an inner spongy structure, which after inflating to 1.2-1.6 bars (no worries, you can't overinflate them) perfectly hold the shape and are very solid. At first, or maybe even at the second sight, you will not recognize that they are inflatable.
Visit our eshop to buy gifts & vouchers.        eshop