Long Canoes
The ideal choice for family trips on the Jizera River
In SUNDISK Family Rental we offer long canoes SAMBA 5.2 with full three rows of seats. This boat is 5.2 m long and comfortably fits a family of four with a dog and luggage. That's why we call it the "Family" canoe and recommend it for trips with two adults and two children. The SAMBA 5.2 canoe has excellent manoeuvrability and is primarily designed for touring, but can also be used for sport paddling on waterways and rivers up to WW2 difficulty. It is very stable, comfortable and its raised tips prevent the boat from flooding.
Dimensions of the SAMBA 5.2 canoe
Length: 520 cm

Width: 89 cm
Weight: 44 kg
Load capacity: min. 380 kg
Explore our recommended paddling routes and choose the one that suits you best.

So? Ready for a family trip?
Take advantage of online booking and payment. It's easy and you'll have everything ready in time.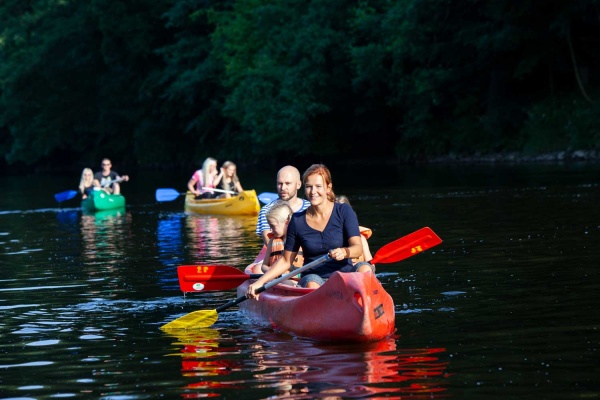 Visit our eshop to buy gifts & vouchers.        eshop