Our scooter bases
Líšný
In the village Líšný begins the Greenway Jizera cycle path. You can find here a small base with refreshment and both scooter and boat rental. The route Líšný – Malá Skála is ideal for families with children, because this part of the cycle path isn't so crowded. The route is only 1,5 km long and when you reach Malá Skála, you can either return the scooters or continue up to Dolánky u Turnova.
Žlutá Plovárna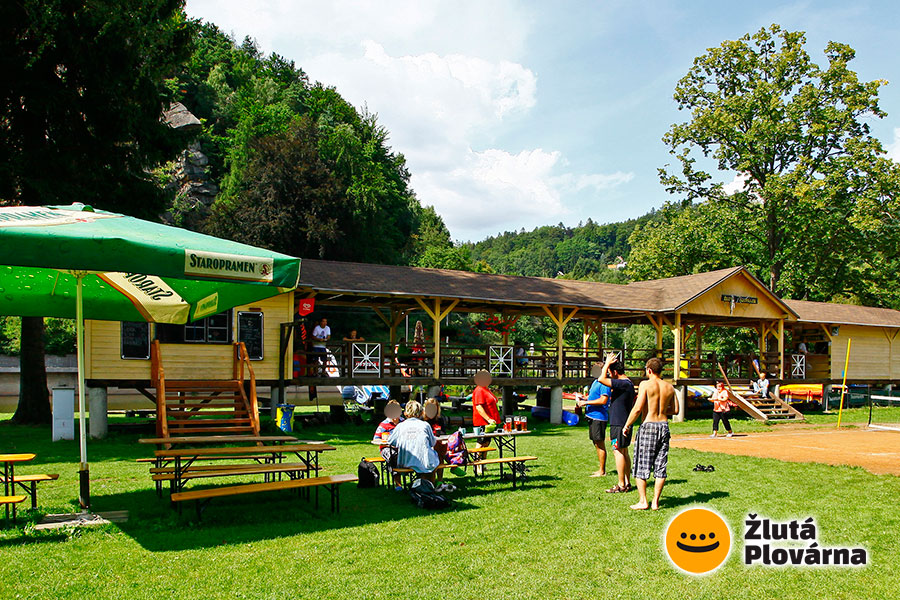 The main base of all our activities. Besides scooters you can also rent there canoes, kayaks and paddleboards. Žlutá Plovárna is an ideal place for your leisure time or family holiday. You can rent there sport equipment for ball games or experience adrenalin adventure in the rope centre, have a ride on a cableway across the river and try to go through the obstacles 7,5 m above the ground.
Information centre Maloskalsko
This season has been opened a new small information centre in the central parking lot in Malá Skála. If you will be coming to Malá Skála from the direction of Železný Brod, it will be one of the first things you will notice there. In the information centre is possible to rent scooter, have some refreshment, buy an ice cream or book a boat or programme in the rope centre.
Guest house and restaurant Křížky
The base in Křížky functions also as a service place on the Greenway Jizera cycle path. Bicycle tourists and scooter "runners" will find here a service point and a small shop, where is possible to buy inner tubes for bikes and basic repair kits. All visitors can use a new barrier-free toilets and showers and families with small children will find there also baby changing tables.
Camp Dolánky
Camp Dolánky is there not only as a place where you can return rented boats and a point of departure for your way back to Malá Skála via the Greenway Jizera cycle path. Dolánky is also a good place for setting off on whole day trips in the Bohemian Paradise, especially to the area around the rock city in Hruboskalsko or Klokočí and Besedice. You can find here a big parking lot and camp, refreshing bathing in Jizera and possibility to have some refreshment.
---
OUR OFFER: If there is a defect on your scooter, you can change it for free for a new one at any of our bases along the Greenway Jizera cycle path.